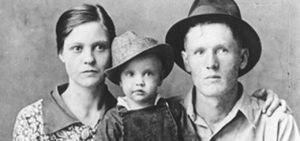 Vernon Presley, the father of Elvis Presley, was on born April 10, 1916. Vernon was born in a house that once sat on this very site. In 1933, Vernon married Gladys Smith and in 1935 Elvis Aaron Presley was born. On Elvis' 13th birthday, Gladys took him to the local Tupelo Hardware Store with the purpose of buying a gun. Elvis begged her to purchase him a guitar instead.  This purchase led to Elvis becoming known as the King of Rock & Roll. Vernon Presley later died in Memphis in 1979. This marker is located at 440 Barnes Road near the Itawamba County Airport. A seating area with fire-pit and picnic tables are located on site.  Stop in and take a picture with the magnolia marker, walk the same path little Elvis, Vernon, and Gladys walked marked with musical stepping stones, then sit a spell and unwind!
https://www.mississippimarkers.com/itawamba-county.html
Special Thanks to the Itawamba Jr. Leadership Class of 2018 Community Project Group:  Owen Bennett, Sara Grace Boggs, Laken Keyes, and Kailee Rogers for improving the grounds at this historical site.